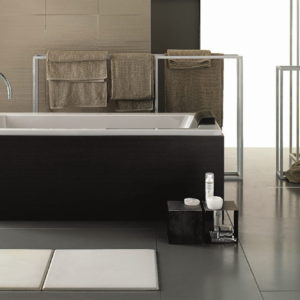 The bathtub is an alternative to the shower that takes up less space and is especially suitable for smaller bathrooms. However, we have always associated the bathtub with enjoyment and relaxation, which everyone probably feels like doing from time to time. Rectangular bathtubs are the largest and most popular group in this range. They are very practical, suitable even for smaller areas, because of the possibility of installing them in the corner, thus using the space as effectively as possible. Rectangular bathtubs are available in different sizes. You can choose a classic shape with a length of approx. 150 cm, larger ones with a length of almost 200 cm, or smaller ones where the bathing comfort is, however, smaller.
Rectangular acrylic bathtub
Rectangular bathtubs are made of various materials. One of the most popular is acrylic, which is known for its excellent resistance properties. It is not as sensitive to chemical agents, scratches and mechanical damage. In addition, rectangular bathtubs are considered easier to clean. They are characterised by smooth surfaces on which bacteria cannot multiply so easily. Acrylic is also a very plastic material that can be shaped in any way, so it can be used to create bathtubs in various, sometimes unusual shapes and dimensions. It is worth noting that rectangular bathtubs are resistant to UV rays, which is particularly important in rooms with windows.
Rectangular bathtubs for two
In our range you will also find a square bathtub with two seats, suitable for a bath for two. It is a perfect piece of equipment for a bathroom with large glass surfaces and a dreamlike view. It is also a good choice for those who like to relax in the company of their partner.
Buy rectangular bathtub and adapt the size to the area of your bathroom! With us you will find a wide range of different models.
See also freestanding bathtubs and round bathtubs.