In times when we are still living in a hurry, luxury seems to be moments of relaxation, the best place to do this is of course a bathtub with a hydromassage system.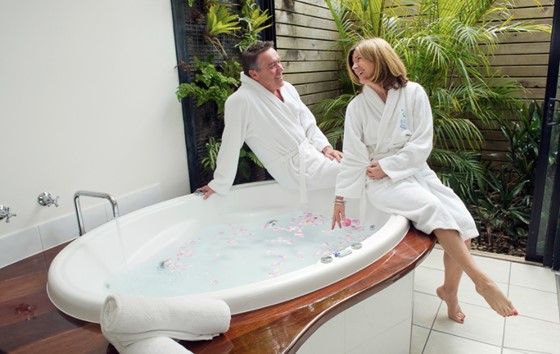 A bathtub with a hydromassage system is a spa substitute that we can create in our own bathroom. Hydromassage is compared to hydrotherapy. It has been proven that water relaxes and calms, and if it can still massage the skin, it gives the greater and better effect.
According to specialists, a bathtub with hydromassage has many advantages. Water and air jets perfectly affect:
• circulation - equalize blood pressure,
• respiratory system - in terms of lung ventilation and deepening of breathing,
• digestion - support intestinal peristalsis, in case of constipation and flatulence,
• reduction of muscle tension - help, among others, in eliminating sourdough,
• nervous system - they calm down, strengthen regeneration and relieve pain,
• insomnia.
After making choices about the shape and size of the bath, the next is the choice of massage and control systems. Most often, bathtubs with hydromassage are equipped with a massage: • water - the jets are usually on the sides of the tub, this is the basic type of massage, it consists of injecting water jets under pressure, • air - the nozzles are most often in the bottom of the bathtub, it is created with the help of air supplied to the bathtub, it is also called pearl, and it massages the body with air bubbles, usually it is a water supplement, although it can be used separately, • water-air - the massage is carried out using water jets with the addition of air, it consists of massaging with water, which mixes with the air taken from the outside in the nozzles.
Individual functions of the whirlpool bathtub are activated by means of a special panel located on the tub edge or by a remote control.
An additional option in bathtubs with a hydromassage system is the use of so-called chemotherapy. Thanks to its application, we can affect our well-being and support the healing process of many diseases, including neuralgia, migraines, neurosis and mental depression. Colors have a strong impact on our mood and well-being. Some of them can calm us down, others irritate us. They have an impact, not only on our minds, but also on body and soul.
In our offer you have the choice of bathtubs equipped with three systems: JOY, Inspire and Mirage Pearl.
The JOY system is a solution that offers the most important massage elements such as water, air and chromo therapy. The most interesting element of these systems is the touch, flat controller. It was developed as individual touchpoints so placed on the surface of the acrylic bathtub that they form an integral part of it. The form of the controller is very simple and its operation intuitive. Joy is a water-air system with 4-diode RGB Power LED chromotherapy.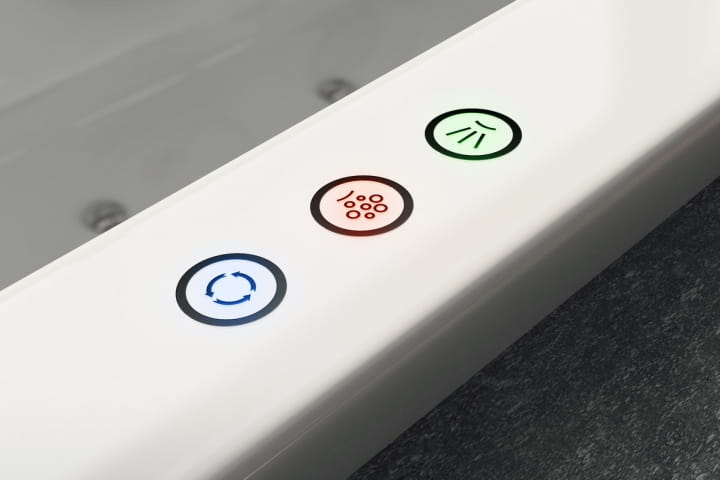 The Inspire system is a system based on air and water massage enriched with chromotherapy. The program begins with the inclusion of one of three automatic chromotherapy programs, then we start the air-water massage, working on the most sensitive places. Water combined with air hits our muscles, massaging individual parts of our body. All you need is 20-30 minutes of such a bath combined with a massage to fall asleep much easier after a hard day, and the next day wake up briskly with your body ready for the next challenges. The Inspire system is a water-air system with 6-diode RGB Power LED chromotherapy.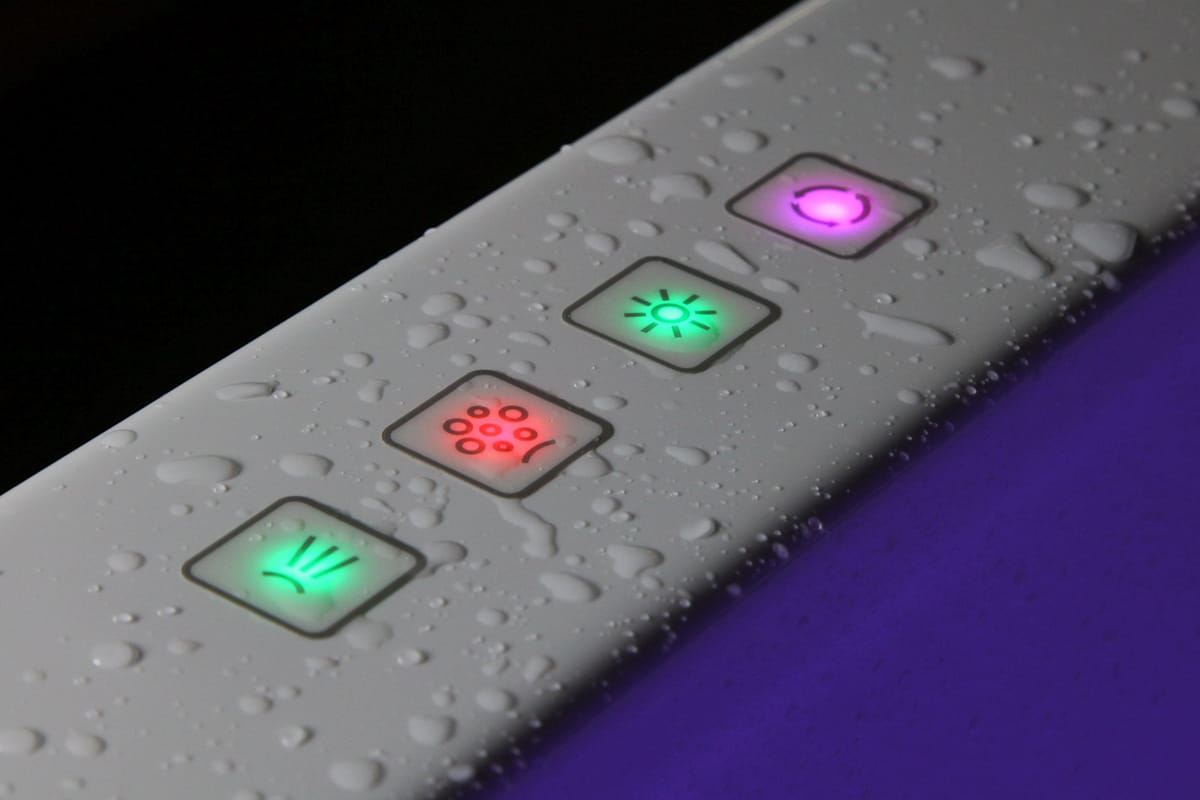 Mirage Pearl is a relaxing air massage and chromotherapy system in a freestanding bathtub, controlled by a remote control. In this chromotherapy system, we have used modern and energy-saving RGB Power LED diodes. Arranging them in several points of the bathtub gives a better visual and therapeutic effect than systems based on ordinary LEDs and standard systems with one integrated lighting point.
Mirage Light is a chromotherapy option in a free-standing bathtub controlled by a remote control.
More details in the table below:
A bathtub is a real luxury, but also an investment. A luxury you can afford and an investment that you shouldn't regret. Nothing relaxes after a long day at work or an exhausting workout like a water massage in the comfort of your own bathroom.