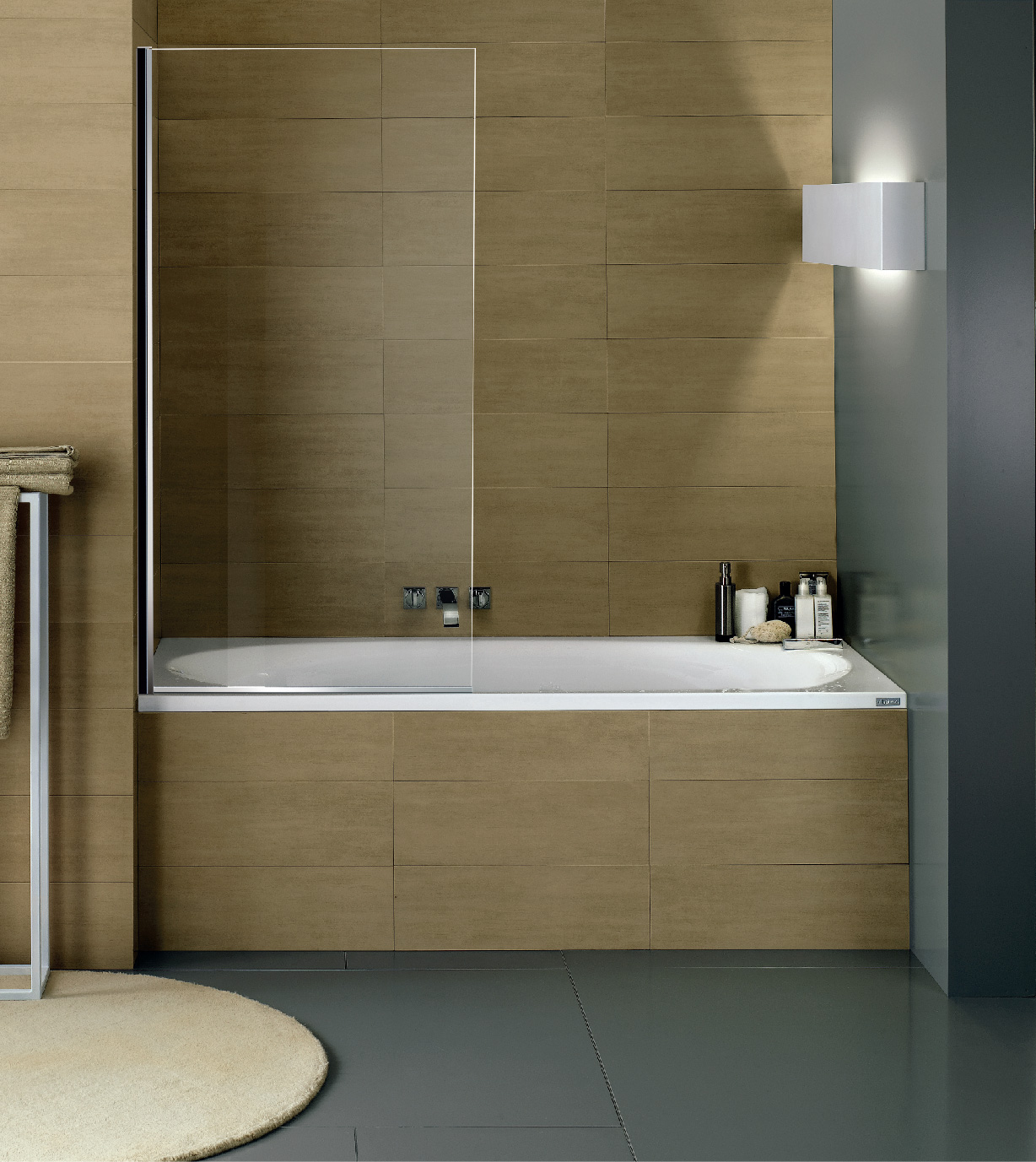 Multifunctionality dominates in modern interiors. We try to simplify the arrangement as much as possible and do without a lot of furniture, equipment and accessories. That is why the shower enclosure for a bathtub is becoming increasingly popular. It is a transparent glass panel, characteristic of shower enclosures without a shower cubicle, i.e. walk-in version. It not only dispenses with a shower tray, but often also with a classic opening shower enclosure, which is replaced by a fixed, stationary glass panel. The shower enclosure for bathtub can be used in two ways. We can fill it with water and relax in it during a long bath. At the same time, it allows a quick shower without the risk of splashing the bathroom protected by a glass panel.
How can a bathroom area be furnished with a glass shower enclosure for the bathtub?
A shower enclosure for bathtub is best suited for recessed bathtubs, i.e. slightly more built-up than classic models with three-sided walls. It can also be used if the bathtub is in a corner and the walls are on both sides. The easiest way to opt for a classic bath is to choose a rectangular shape and typical sizes. It should also have a wide enough rim to allow the structure to be attached. The shower enclosure for the bathtub comes in different sizes, so you can choose whether you want to cover a larger or smaller area of the bathtub. Also, note that the bathtub is no longer a feature and an additional mixer is required, this time the shower set is at the right height for a comfortable standing bathtub. A good choice will be a rain shower that delivers pleasant rain and provides an additional bathing experience. Some people opt for a shower enclosure for the bathtub.
Save space with a glass shower enclosure for the bathtub!
A small bathroom doesn't mean there are so few design options. With a shower enclosure for a bathtub, you have the option of having both a bathtub and a shower in your small bathroom at a much lower cost and valuable