For many of us, a hot bath is one of the most popular methods of escaping everyday hardships. When we are in the bathtub, the bathroom becomes a refuge for us where we recover lost energy. The bathtub provides us with comfort and pleasure, but it is not a solution for everyone. Bathroom area, which we usually have, is small, which is why showers are a common solution.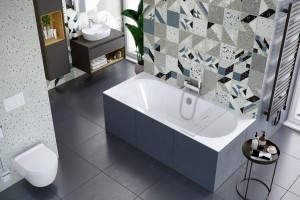 Our store offers various shapes and sizes of acrylic products. The most popular are bathtubs, mainly rectangular bathtubs, whose dimensions range from 100 to 200 cm in length and from 70-100 cm in width. In addition to traditional rectangular, you can also buy oval, round, asymmetrical or corner bathtubs. Built-in bathtubs or freestanding bathtubs, which are becoming more and more popular in modern interiors. Bathtubs are usually mounted on special feet or rails, ensuring stability.
The basic raw material in the technology of manufacturing bathtubs and shower trays is acrylic - a special variety of polymethyl methacrylate adapted to sanitary and hygienic requirements and the color needs of customers. Acrylic is still a very popular material, conquering the world of interior designers and architects for over a dozen years. In addition, acrylic bathtubs are warm to the touch, smooth and easy to clean. They're one of many advantages is also the fact that they weigh the least of all available types of bathtubs, are easy to transport and install. Acrylic baths keep the water temperature longer than steel bathtubs, they are sound-absorbing - pouring water is not accompanied by noise. In addition, acrylic scratches can easily be used to repair surface scratches.
All products comply with applicable European standards EN 14516: 2006 + A1: 2010, EN 232: 2013, EN 14527: 2006 + A1: 2010, EN 251: 2013.